Paranormal Fact
Las Vegas, NV
Email
paranormalfact@hotmail.com
Year Founded
2012
Number of Members
2
Areas Served
Across the united states & Around the world.
Specialties
Businesses, private homes, historic locations, & much more.
Details
Paranormal Fact was created with the idea to back its claims, reinforcing that there is in "fact" something occurring, rather then non-occurring energies. Man Kind has been fascinated with the unknown for centuries and it wore deep in our roots to provide our clients with as much information as we could to repair the worlds between the living and the deceased.

We deal with most cases, ranging from historical to personal and residential claims. We provide as much accuracy as we can to make sure our clients are given answers. Our reputation is our centerfold and we pride ourself on our integrity, honesty and knowledge in this field. What you can expect on an investigation? A thorough breakdown of the properties history and any significant information that can be provided to give clarity, re affirmation, comfort or just plain answers. We dive into each case with the goal to uncover paranormal activity and act as your representative. We cover all areas of the property within owners discretion and supply the proper equipment to detect any abnormalities. We translate all our data, gathering any evidence to prove of such activity. In closing, we review the evidence on a second meeting with our clients and will go over all information obtained, hopefully granting answers and provide any helpful resources and suggestions. Paranormal fact is an investigation team with the equipment and skill to track activity in any location, private or professional. We are available to answer your questions anytime. Charlie Rivero and Samantha Jay are proud to also be a part of Paranormal Researchers Of Nevada. a close group of investigators and researchers that combine all of our expertise to help those in need of our assistance. For further questions, please contact us by clicking on our contact page. To learn more about us, please look onto our bios for further background information. We look forward to meeting you.
| | | |
| --- | --- | --- |
| | | |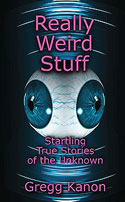 Available at: Outskirts Press
& Amazon