RESEARCHING THE HISTORY OF A PRIVATE HOME
by Jamie Davis
Author of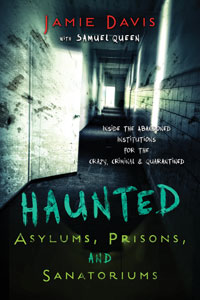 Haunted Asylums, Prisons, and Sanatoriums: Inside Abandoned Institutions for the Crazy, Criminal & Quarantined
If you suspect your house might be haunted, you may be thinking about conducting some historical research into the property to get a handle on what might be going on. Not surprisingly, the internet is the first place you should begin your research.
Internet Sources
Your local Tax Commissioner's website: Most counties have websites now which will allow you to input the property address and will give you a list of transactions so you can obtain the names of the previous owners. If you cannot obtain this information online, you will have to go to the office in person. This information is public record, so do not be dissuaded by an unhelpful clerk!

Your local news sites:

Once you know the names of the previous owners, you can search the newspaper sites for their names your address. Note that you may not be able to access archives online. In that case, you will need to submit a request or arrange to access the stored archives yourself.
Submit Open Records Requests
Submit an open records request to your city and county police department, sheriff's department, fire department, and 911 center. These results will generate reports for every event that resulted in law enforcement coming out to your home. Maybe there will be evidence of a traumatic accident, or even evidence of a death on site.
In Person Research
Lastly, do not overlook networking in your community. You need to speak with your neighbors and local realtors who may have information about the property. Long-term neighbors may be able to point you to additional sources that can shed some light into the history of the property. Old photographs and documents are fascinating, and certainly important pieces of evidence, but do not overlook oral histories that can only be obtained from tracking down people! With social media, you should have no problem getting in touch with former occupants of the home. In many instances, the former occupants will be your best sources. If nothing else, they can corroborate your personal experiences in the home!
Jamie Davis is a licensed private investigator, certified paralegal, and author of Haunted Asylums, Prisons, and Sanatoriums